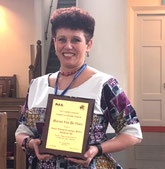 MV Afrika Consultancy family are proudly congratulating  the founder on the award she received during the International Womens Days from the ALL WOMEN LEAGUE &WOMEN ECONOMIC FORUM (WEF) in the Hague Netherlands. The theme being  Women empowering Agriculture, Circular ecomony, Sustainabilty  and Cyber Security".
Marion was rewarded for her outstanding work in Africa, more so in Kenya where through her organization, Stichting Pamoja Kenia, she is helping in drilling and building water wells for the well being of the locals. The project has seen the locals enjoy and have clean water in their neighbourhood, solving perennial problem of decades where they had to walk for long distances to fetch water. Through the project the locals have no worries due to any of the weather condition affecting them. Water is stored in the water tank during raining season for usage in dry seasons. This has helped the locals and the family around the projects  to concentrate in other activities knowing there is always availability of water for domestic use.
Through the vision of WEF which remains Philanthropic, spirit for non-profit  and collaborative mode, the WEF unleash  the power of each other  through oneness. This is exactly what Pamoja Kenya project does to the local people of Matsangoni in Kilifi county in the coastal town of Kenya. They always feel the oneness and ownership of the project, through their weekly maintenance of the project by the local people in management mode, where they rotate in cleaning, collecting and maintaining the projects in good form. Marion believes that "every time you do a good deed you shine the light a little farther into the dark. And the thing is, when you're gone, that light is going to keep shining on, pushing the shadows back."

We are proud of you and wish more shinning stars.